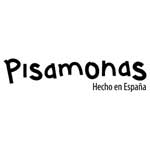 Category

Kids

Activity

Children's footwear

Location

Planta baja

Telephone

865 615 110

Web

Visit page

Code

LB33
Pisamonas Portal de la Marina
Sometimes it can be difficult to find quality children's footwear, but this is what the Pisamonas store is for that you can find among the range of shops at Portal de la Marina Shopping Centre in Ondara. This store has its origin in a family business founded in 2013 by two couples who decided to launch it after not being able to find an offer of quality children's footwear on the Spanish market with careful designs, easy to find and at reasonable prices.
Since then, Pisamonas hasn't stopped growing in the market and nowadays it is one of the leading Spanish brands in the sector and has stores in countries such as France, Italy, United Kingdom, China and Portugal, and with expectations of opening in more countries in the coming years. Against this background, at the Pisamonas store in Ondara they offer you the usual footwear like you've never seen it before, with typical models such as menorquinas, deck shoes, moccasins, "pisacacas" safari boots, but with original shapes and high quality materials.
The range that the Pisamonas store in Ondara has for boys and girls is based on espadrilles and Valencian shoes, boots, wellies, jelly and beach shoes, Condor clothing and tights, Avarcas menorquinas, deck shoes, Pepito shoes, sandals, slippers, English shoes, Blucher shoes, school shoes, communion shoes, ballet pumps or Mary Jane shoes.
Finally, at Pisamonas at Portal de la Marina Shopping Centre in Ondara you will also be able to find accessories such as belts and braces, clothing for ceremonies, leotards and clothing, accessories for the cold, hair, the sun and beach, for the beach, for cleaning shoes or insoles and laces for all the models of shoes that you will be able to find at Pisamonas.