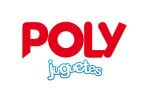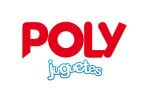 Category:

Kids

Activity:

Toy shop

Location:

Planta baja

Telephone:

966 477 435

Web:

Visit page

Code:

B18 / B19
Poly Jugueterías Portal de la Marina
Jugueterías Poly is a toy shop focussed on the world of children, which has one of its stores at Portal de la Marina Shopping Centre in Ondara and offers its customers a wide range of items related to the toy and hobby sector. Currently, it has more than 30 years' experience, which has made it a leader in the sector of children's toys.
Throughout the years it has been active, Jugueterías Poly has tried to always maintain the ideals it was created on, maintaining a family spirit which, nowadays, has more than 400 people working with them, with 250 shops around the world and 58 points of sale in Spain. To give you an idea, its central warehouse has more than 100,000 products in stock.
Among the toys that you will be able to find at the Jugueterías Poly store in Ondara you can find those to do with building, action figures and sets, home and jobs, musical and audio toys, boardgames and puzzles, electronic toys, crafts, school equipment, dolls and accessories, car parks, tracks and vehicles, fluffy toys and pets, as well as toys for early childhood and pre-school.
But there are also many outdoor toys, to play outside, such as bikes and accessories, play houses, swings and slides, baby walkers and trikes, outdoor games, recreational games, skates and skateboards, dart guns, battery operated vehicles, inflatables or paddling pools and water games for summer.
The toys and shops you love most in Ondara are at Portal de la Marina!