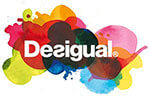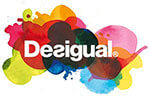 Category

Fashion and accessories

Activity

Fashion and accessories

Location

Planta primera

Telephone

966 477 539

Web

Visit page

Code

A55
Desigual Portal de la Marina
If you don't want to dress the same as everyone else, you have to go to the Desigual store that we have inside Portal de la Marina Shopping Centre in Ondara and where you will be able to find the best designs from this fashion brand from Barcelona which has become famous throughout the world thanks to the originality of its products and the affordable prices to suit all budgets.
You will know Desigual for the famous "patchwork" denim jacket, which has been its flagship item throughout the years that this brand has been in the market. Since they began recycling jeans, three in particular, to create denim jackets, the Desigual stores haven't stopped growing in all areas, so it is an honour to have one of its locations at Portal de la Marina Shopping Centre in Ondara.
But at Desigual in Ondara you won't just be able to find the denim jacket with the Mickey Mouse pattern, but also many others which, throughout the years, have become equally or more famous. In this Desigual store, women will also be able to find original dresses, coats, jackets, jumpers and cardigans, sweatshirts, shirts and blouses, t-shirts and tops, jeans, trousers, leggings, skirts, pyjamas and dressing gowns, as well as sports clothing such as sneakers or sports bags.
In terms of accessories, customers of the Desigual store in Ondara will be able to find messenger bags, shopper bags, large bags, small bags, rucksacks, convertible bags, boots and ankle boots, trainers, purses, scarves and shawls, ponchos, costume jewellery, accessories for the cold and also for the hot weather such as caps, hats and sunglasses, and many more accessories.
Enjoy all of the services that we offer you at Portal de la Marina, your shopping centre in Ondara.