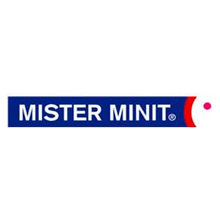 Category

Services

Activity

Shoe repair

Location

Planta baja

Telephone

966 477 407

Web

Visit page

Code

B66
Mister Minit Portal de la Marina
Have your shoes broken and you don't know what to do with them? The best thing is to be kind to them and give them a second chance. This is what the Mister Minit store at Portal de la Marina Shopping Centre in Ondara is for, where you will be able to find a team of professionals who will repair your broken footwear or customise it however you like according to the latest fashion trends in footwear.
The Mister Minit store is characterised for offering a comprehensive shoe repair service, but not just this, since they also carry out a service of key cutting, copying remote controls, engravings, digital printing of business cards, making personalised stamps and many more services that can be carried out by the professionals who work in this space at Portal de la Marina Shopping Centre in Ondara.
And, often, we need to cut a key that we have lost or we need to give to our tenants, and in this Mister Minit store in Ondara, they carry out this service quickly and professionally. They often do this straight away and, if not, you can always leave it with them and have a walk around Portal de la Marina Shopping Centre while they do it.
Who doesn't like the shoes they wear all the time to have a second life? If you think this way, you have to come to Mister Minit whenever your shoes break and you want to repair them quickly, cheaply and with highly qualified staff who have worked on footwear for many years.
Discover all of the services and shops that we offer you at Portal de la Marina!